Springs
The simplest method of applying preload is to use a wave spring. The spring acts on the outer ring of one of the two bearings. This outer ring must be able to be axially displaced. In the diagram below, the bearing arrangement comprises a preloaded, single-row, deep groove ball bearing at each end of the shaft.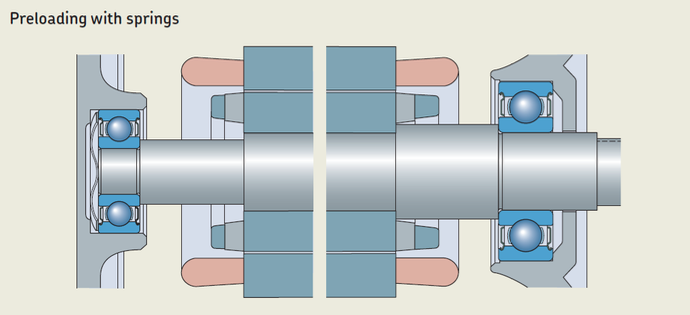 The preload force remains practically constant, even when there is axial displacement of the bearing as a result of thermal elongation. The requisite preload force can be estimated using:
F = k d
where
F = preload force [kN]
k = a factor, described in the following text
d = bearing bore diameter [mm]
For small electric motors, values of between 0,005 and 0,01 are used for the factor k. If preload is used primarily to protect the bearing from the damage caused by external vibrations when stationary, then greater preload is required and k = 0,02 should be used.
Spring loading is also a common method of applying preload to angular contact ball bearings in high-speed grinding spindles. The method is not suitable for bearing applications where a high degree of stiffness is required, where the direction of axial load changes or where indeterminate peak loads can occur.
Adjustment
Adjustment means setting the internal clearance or preload in an adjusted bearing arrangement during assembly. In operation, a certain clearance/preload ⁠—or only preload ⁠—range then arises. Axial preload in an adjusted bearing arrangement with single-row, angular, contact ball bearings, tapered roller bearings and deep-groove ball bearings is produced by displacing one bearing ring axially, relative to the other, by an amount corresponding to the desired preload force. There are basically two principal methods to adjust preload: individual adjustment and collective adjustment.
a. Individual adjustment: With individual adjustment, each bearing arrangement is adjusted separately using nuts, shims, spacer sleeves, crush sleeves, etc. Measuring and inspection procedures are used to ensure that the established nominal preload is obtained with the least possible deviation. There are various methods to obtain the required preload:
axial displacement method
frictional moment method
direct force method
The method used depends on, among other things, the application design and the number of bearings to be mounted. Individual adjustment can accommodate enough tolerance stack-up so that if individual components are produced to normal tolerances, the desired preload can be achieved with a relatively high degree of accuracy.
     i) Axial displacement method: The axial displacement method is based on the relationship between the preload force and the elastic deformations within the bearing arrangement. The requisite preload can be determined from the preload force/axial displacement diagram below.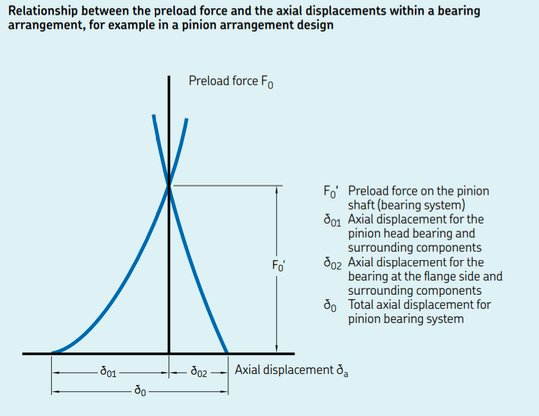 This method of adjustment is frequently used when the components of a bearing arrangement are preassembled. The required preload, which is expressed as a negative distance, requires measuring total axial positive displacement (end play) of the shaft relative to a fixed surface. This is typically done with a dial indicator. Shims, intermediate rings or spacers can then be used to adjust axial displacement to the correct negative distance. The width of the shims, intermediate rings or spacers is determined by:
the distance between the shaft and housing shoulders
the total width of both bearings
the axial displacement corresponding to the desired preload force
a correction factor for the axial displacement to account for thermal expansion in operation the manufacturing tolerances of all related components, established by measuring the actual dimensions before mounting
a correction factor to account for a certain loss of preload as a result of settling and wear
ii) Frictional moment method: This method is common in large series production because it is fast and can be automated. Since there is a relationship between bearing preload and the frictional moment in the bearings, it is possible to stop adjustment when a frictional moment corresponding to the desired preload has been reached. This can be done if the frictional moment is continuously monitored while setting preload. However, the frictional moment can vary from bearing to bearing, and it also depends on the preservative, the lubricant, and the sealing method.
iii) Direct force method: As the purpose of bearing adjustment is to obtain a specific preload, it would seem sensible to use a method either to produce or to measure the force directly. However, in practice, the indirect methods of adjustment by axial displacement or frictional moment are preferred, because they are simple and can be achieved easily and more cost-effectively.
     b. Collective adjustment: This method can also be referred to as "random statistical adjustment." Using this method, the bearings, shaft, housing and any other components are manufactured to normal tolerances. The components, which are considered fully interchangeable, are assembled randomly. For tapered roller bearings, this interchangeability also extends to the inner ring assemblies and outer rings. To avoid high machining costs and the use of precision bearings, it is assumed that, given the limiting values of the tolerances, it is statistically improbable that the extremes of the tolerance stack-up occurs. If, however, accurate preload is to be obtained with as little scatter as possible, manufacturing tolerances must be narrowed. The advantage of collective adjustment is that no inspection is necessary and no extra equipment is needed when mounting the bearings.
Manufacturing
a. Single, universally matchable bearings: Universally matchable bearings are specifically manufactured so that, when mounted in random order but immediately adjacent to each other, preload within a predetermined range and effective load sharing will result without the use of shims or similar devices.The preload classes areGA, GB and GC.
b. Matched bearing sets: Bearings can be supplied as a complete bearing set consisting of two, three or more bearings. The bearings are matched to each other during production so that when mounted immediately adjacent to each other and in the specified order, preload within a predetermined range and effective load sharing result without the use of shims or similar devices. The preload classes areGA, GB, and GC.
SKF
www.skf.com/us